Paul
Perfect for both beginner and expert alike. Like me, bring your model making dreams to life with a kit from OcCre - 100% recommended!
ROMAN
OcCre is a company that will turn your dreams into reality! This is a company that follows you and is happy for your results together with you! I also took into account that the company has everything necessary for a beginner, from desktop equipment to a wide variety of ships for any taste and your skill level! It's like your own little world where you're always welcome and where managers are always in touch and ready to help you)) Become a part of this family
ALEX
Occre ship models are a masterpiece in craftsmanship and attention to detail. Building these models has been a calming and meditative experience, allowing me to tap into my creativity and find peace. I highly recommend Occre to anyone seeking a high-quality, spiritual building experience.
Over 2,000 reviews and counting
Become an explorer and discover a world where strength and conviction are your best allies. We encourage you to unleash the explorer within you!
2350
Approximately pieces
INTERMEDIATE
REQUIRED LEARNING LEVEl
Don't miss the opportunity to embark on this incredible
adventure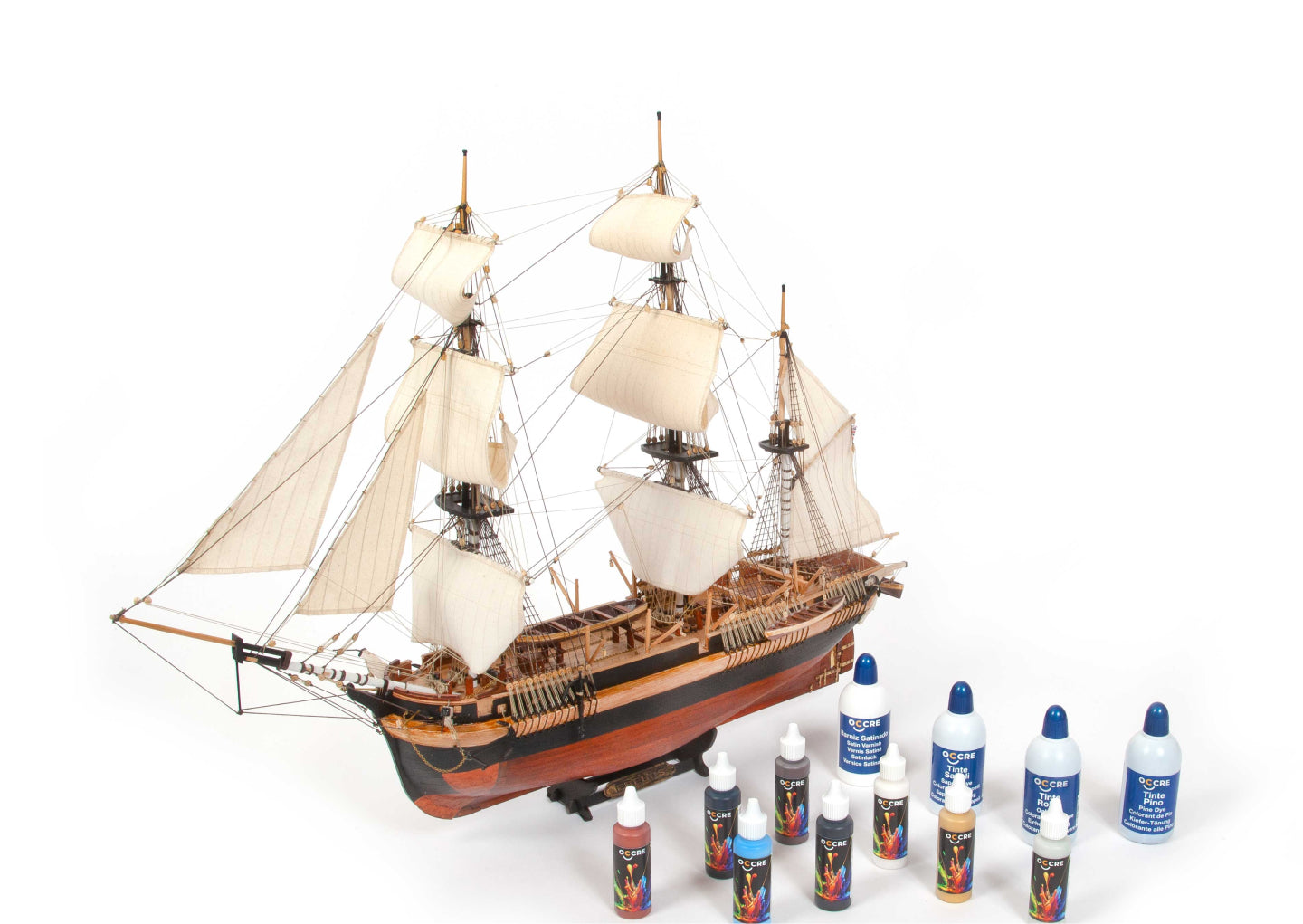 Benefits of building the HMS Erebus model
Deepen historical learning:
This model will help you dig into the history of Arctic exploration and the British Navy. Discover the details and technology used on the original ship, and how these factors affected exploration success.
Develop manual and mental skills:
Using detailed instructions, precise tools, and working with small, delicate pieces involves developing skills useful in daily life.
Encourage patience and perseverance:
Building the HMS EREBUS model is a long-term project that requires patience and perseverance to complete. You can experience the satisfaction of overcoming challenges and obstacles while completing the project.
Améliorer la concentration et réduire le stress
Building the HMS EREBUS model can be a meditative and relaxing activity that helps reduce stress and improve concentration and focus.
The ship from HELL and the ship of TERROR caught in the ice.
HMS Erebus was a British Royal Navy ship that participated in several expeditions to Antarctica and the Arctic in the 19th century.

In 1845, the HMS TERROR and its twin brother, HMS EREBUS, embarked on an expedition to find the Northwest Passage, a sea route connecting the Atlantic and Pacific oceans through the Arctic.
Unfortunately, the expedition was not successful. The HMS Erebus and the HMS Terror became trapped in Arctic ice for several years, and their crews suffered terrible conditions. Lack of adequate supplies, extreme cold, disease, and death affected the men. Finally, the crew was forced to abandon the ships and try to survive on the ice.
It was not until 2014 that the remains of HMS Erebus were found at the bottom of the Arctic Sea, which has allowed the expedition's history to be reconstructed and the men who fought under such extreme conditions to be honored.
DO YOU KNOW THE TWIN BROTHER
OF THE HMS EREBUS?
THE HMS TERROR
Together they ventured on the expedition to find the Northwest Passage, a sea route connecting the Atlantic and Pacific oceans through the Arctic.